Cable Railing Use for a Stylish Home
Incorporating stylish elements and eye-catching design into your home has never been easier. With the variety of resources available to inspire you and a world of unique ideas at your fingertips, you can quickly implement a stylish interior and exterior space.
A popular way to modernize features around your property includes using a cable railing to open up a space. This innovative way of bringing fluidity throughout a home creates a compelling look suitable for a range of traditional and contemporary buildings. It is also easy to install and provides a low-maintenance option for inside and outside the home.
If you're looking at options for renovating or just adding stylish yet straightforward elements to your property, take a look at some of the top places where it complements the space perfectly.
Balcony and Terrace Areas
If your home has a balcony area, it can often feel enclosed if a substantial barrier or railing option is blocking the view. You may feel this is the best option for safety reasons, but cable railing also offers a versatile and secure structure to open up this space. If the balcony is large enough to host a dining area, then this type of railing is ideal for creating a hidden barrier so you can soak up the surrounding garden areas. Cable railing is often used in modern buildings and apartments with outstanding scenery views, and with this unique viewpoint, it provides a beautiful transition from indoor to outdoor spaces.
Outside Decking
This is possibly one of the most popular places to incorporate in your exterior areas, as it creates an uninterrupted feel to your garden area. This railing option ensures that you can make the most of the space in your outer sections, and during the summer, there's nothing better than dining outside and enjoying its distinctive aesthetics. It also provides a low-maintenance solution and is easy to clean, which keeps it looking pristine all year round. With minimal upkeep, this type of railing can withstand a range of weather conditions and still look as good as first installed.
Internal staircases
It can also provide stylish solutions for internal staircases. Railings are an essential part of a safe staircase feature in your home, but that doesn't mean it has to be made in material that doesn't work with the original interior design. The staircase is often overlooked when renovating, but putting a little inspiration into this area can help open up the space and create light pockets with a contemporary look. This option also provides a sleek and transitional style throughout each property floor and can be tailored to individual preferences or central themes.
Poolside Railing
If you have a swimming pool in your garden or outside spaces, barriers are usually a part of the building code to keep everyone safe while you enjoy this feature. There are several options to incorporate a barrier beside the pool, but some can look unsightly and require a lot of maintenance. To create a chic poolside feature, a cable railing is an ideal option. Not only does stainless steel cable railing provide an unobtrusive element around the pool, but it also offers an effortless style to match your garden themes. Installation and maintenance are also accessible. Although it is near water, it will not affect the look of the metal, as its construction provides a durable and corrosion-resistant solution.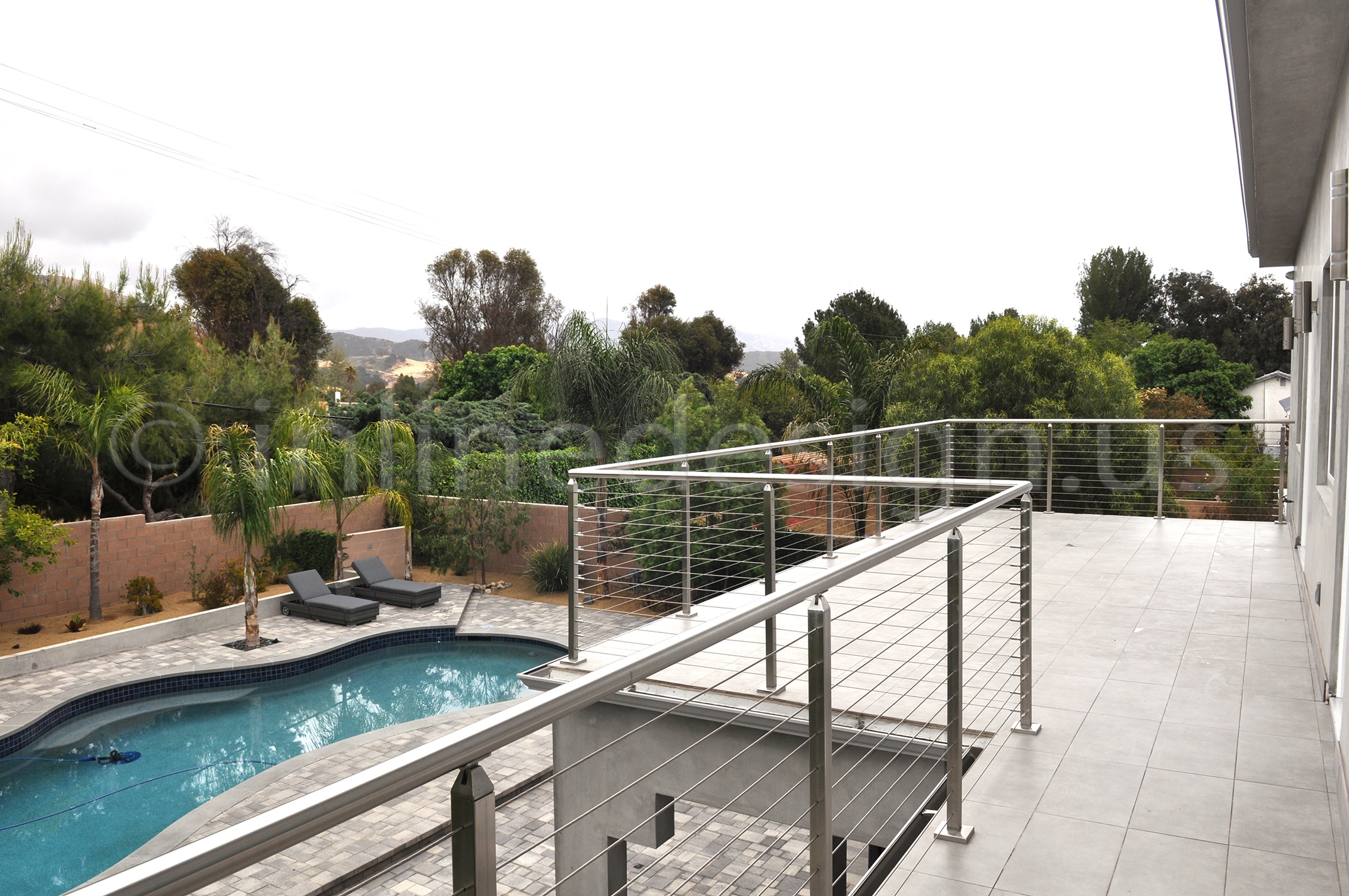 Entrances and Pathways
Stainless steel cable railing is ideal for striking entrance-ways and paths leading to your property to create the ultimate curb appeal. You can often incorporate them into the landscaping of your front garden areas without obstructing the beautiful floral arrangements and natural foliage surrounding your property.
Creating Unique Style
The beauty of cable railing is that you can choose a range of looks to suit individual elements of your interior or exterior themes. These railing solutions work with a range of decking or living space materials, including wood and stone. There is also the option of square and round posts and handrails to customize the look in each space.
Implementing this sleek solution is perfect for traditional and modern properties and can add a touch of unique style for a statement look.
---